Brian Galvin/Andrew Sparkes Goalkeeper Camp
June 4-8
6:00-8:00 PM
Barry University Soccer Stadium
Boys and Girls age 7-18
3 Day – $215  5 Day – $325
South Florida Goalkeeping Academy Director Brian Galvin is teaming up with Andrew Sparkes, Director of Goalkeeping for Swansea City of the English Premier League. Last year's camp was a great success and this year will be even better!
Topics covered will include handling, footwork, diving, shot-stopping, distribution, high balls, crosses and more!
There will be plenty of goalkeeping competitions as well as great prizes!
Camp will take place at Barry University in Miami Shores. We will be arranging a car pool for those who live in and around Boca Raton.
For more information please email Brian Galvin at bgalvin@SouthFloridaGK.com or call at 614-565-0855.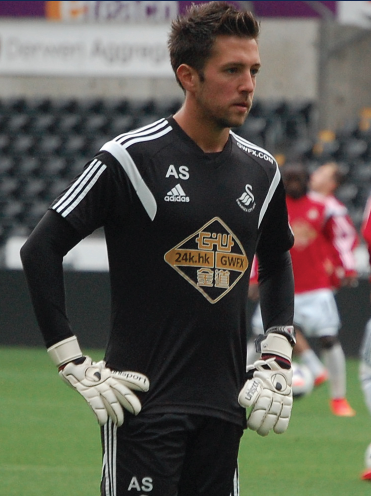 Andrew Sparkes – Director of Goalkeeping for Swansea City FC
Summer Goalkeeping Camps Miami, Summer Goalkeeping Camps Fort Lauderdale, Summer Goalkeeping Camps Boca Raton, goalkeeper camps, goalkeeper camps Miami, goalkeeper camps Fort Lauderdale, Goalkeeper Camps Boca Raton, soccer goalkeeping, soccer goalie, soccer camps Miami, soccer camps Boca Raton, soccer camps Ft. Lauderdale
The SFGA Juniors Goalkeeper Training Program provides the foundation for future success in the goal by teaching young keepers the proper techniques to save shots effectively and safely, all while building their enthusiasm for goalkeeping and having fun.  
 The lateral movements necessary in goalkeeping are far different than the forward walking and running kids are accustomed to in their youth. Our Juniors program places heavy emphasis on games and activities that make movements from side-to-side more natural. Teaching these techniques at an early age allows the proper techniques of goalkeeping to develop by muscle memory, creating more fundamentally sound goalkeepers as they progress.
Coming out of the Juniors Program, keepers will be proficient in:
Stance and positioning/angles, Lateral footwork, Catching, Basic diving, Breakaways/ 1v1s, Goal kicks and punts
Our Select Goalkeeping Program is aimed at developing the fundamental skills of goalkeeping for keepers age 13 to 18.
Keepers will learn essential goalkeeping skills including:
Footwork, Positioning/Angles, Catching, Diving, Defending breakaways, Distribution (punts, dropkicks, throwing, back passes), Handling crosses
A typical session will consist of an intense warm-up, followed by coaches teaching the technical aspects of a skill. This will be followed by repetition of the skill under game conditions, with further critique from the staff on form. Once the skill has been learned, we move on to competitions involving the skill to see how well keepers can perform the correct technique under pressure. We end every session with a fitness workout involving core strength, plyometrics, and body weight exercises to build keepers into athletes capable of making any save in the goal.
The SFGA Advanced Goalkeeping Program focuses on developing top-level keepers capable of playing at the collegiate or professional level.  
SFGA Advanced goalkeeping sessions emphasize:
Perfecting technique on every style of save
Refining catching technique to hold every shot
Increasing diving power through plyometric jumping exercises
Improving agility through a variety of footwork drills
Building strength through body-weight and core exercises
Breeding competitiveness by making every drill and game a contest
Every aspect of the SFGA Advanced Goalkeeping Program mirrors the techniques, drills and exercises used at the collegiate and professional levels.  Keepers coming out of this program will be prepared to succeed at the highest levels of the game.